For a better tomorrowOur contribution to environmental and climate protection
As a family-run company, thinking across generations has always been particularly important to us. That is why we are already making our contribution today to a better tomorrow. Because: The world and its resources are not inexhaustible. This makes it all the more important to use them responsibly and sustainably, especially as a company.
We at BERNSTEIN are fully aware of this responsibility for the environment.
This year, a photovoltaic system was installed at our site in Porta Westfalica. This enables us to cover part of our electricity requirements. For the remaining part, we obtain 100% green electricity from hydropower. Our production site in Hille-Hartum will also get a solar plant for energy generation soon.
Certified since 1996
A quality management system was first introduced at BERNSTEIN AG in 1996. Since then, this has been consistently applied in the company and certified according to DIN EN ISO 9001.
In 2016, our environmental management system was also certified according to DIN EN ISO 14001.
Of course, we have these systems checked by regular audits and renew the corresponding certifications.
Closing the loop: Disposal of old appliances
Based on the Act on the Circulation, Return and Environmentally Sound Disposal of Electrical and Electronic Equipment (Electrical and Electronic Equipment Act - ElektroG), the requirements of the European WEEE Directive (Waste of Electrical and Electronic Equipment) - (Directive 2012/19/EU) are implemented in Germany.
According to the Electrical and Electronic Equipment Act, manufacturers, distributors and importers who place electrical and electronic equipment on the market in Germany are obliged to register with the Foundation for Waste Electrical Equipment (Stiftung Elektro-Altgeräte Register, Stiftung EAR).
BERNSTEIN AG is registered under the WEEE registration number DE 50560927 in the manufacturer register of the EAR foundation.
Disposal of waste electrical and electronic equipment
Product take-back by BERNSTEIN AG is carried out for article categories that are registered with the EAR Foundation. Affected are (according to the Electrical and Electronic Equipment Act (ElektroG) § 2) devices of category 5 "small monitoring and control instruments" (switches and sensors with electronic signal processing) as well as, if applicable, devices of category 4 "large monitoring and control instruments" (e.g. enclosures with built-in signal light).
Old appliances that were placed on the market before 13 August 2005 are excluded from being taken back. The production marking on the type plate of the respective product is used to identify the date of manufacture.
If you would like to return your old electrical or electronic equipment purchased from BERNSTEIN to us, please contact your sales representative or contact us via E-Mail: info@bernstein.eu.
The crossed-out wheeled bin on products, packaging and/or accompanying documents means that used electrical and electronic products and batteries must not be disposed of with normal household waste.
The deletion of personal data on the old devices must be carried out by the end user on their own responsibility before disposal.
BERNSTEIN products must not be disposed of via the municipal collection and return points. Waste electrical and electronic equipment can be taken back in the form of a return registered by the customer and approved by BERNSTEIN AG (WEEE product take-back).
Disposal of used batteries
Batteries may be included in the scope of delivery of a BERNSTEIN product. Batteries/accumulators that are not permanently integrated in the electrical (electronic) device must be removed and disposed of properly before disposal.
The crossed-out wheeled bin symbol means that batteries must not be disposed of with normal household waste. Certain batteries containing harmful substances are additionally marked with the following signs below the waste bin symbol:
Pb = Battery contains more than 0.004 mass percent lead
Cd = Battery contains more than 0.002 mass percent cadmium
Hg = Battery contains more than 0.0005 mass percent mercury
You are legally obliged to return used batteries so that proper disposal can be ensured. You can return used batteries to a municipal collection point or to your local retailer. As a distributor of batteries, BERNSTEIN AG is also obliged to take back used batteries, although our take-back obligation is limited to used batteries of the type that we carry or have carried as new batteries in our range.
You can return used batteries free of charge directly to our dispatch warehouse at the following address:
BERNSTEIN AG
Holzhauser Str. 31
32479 Hille
Germany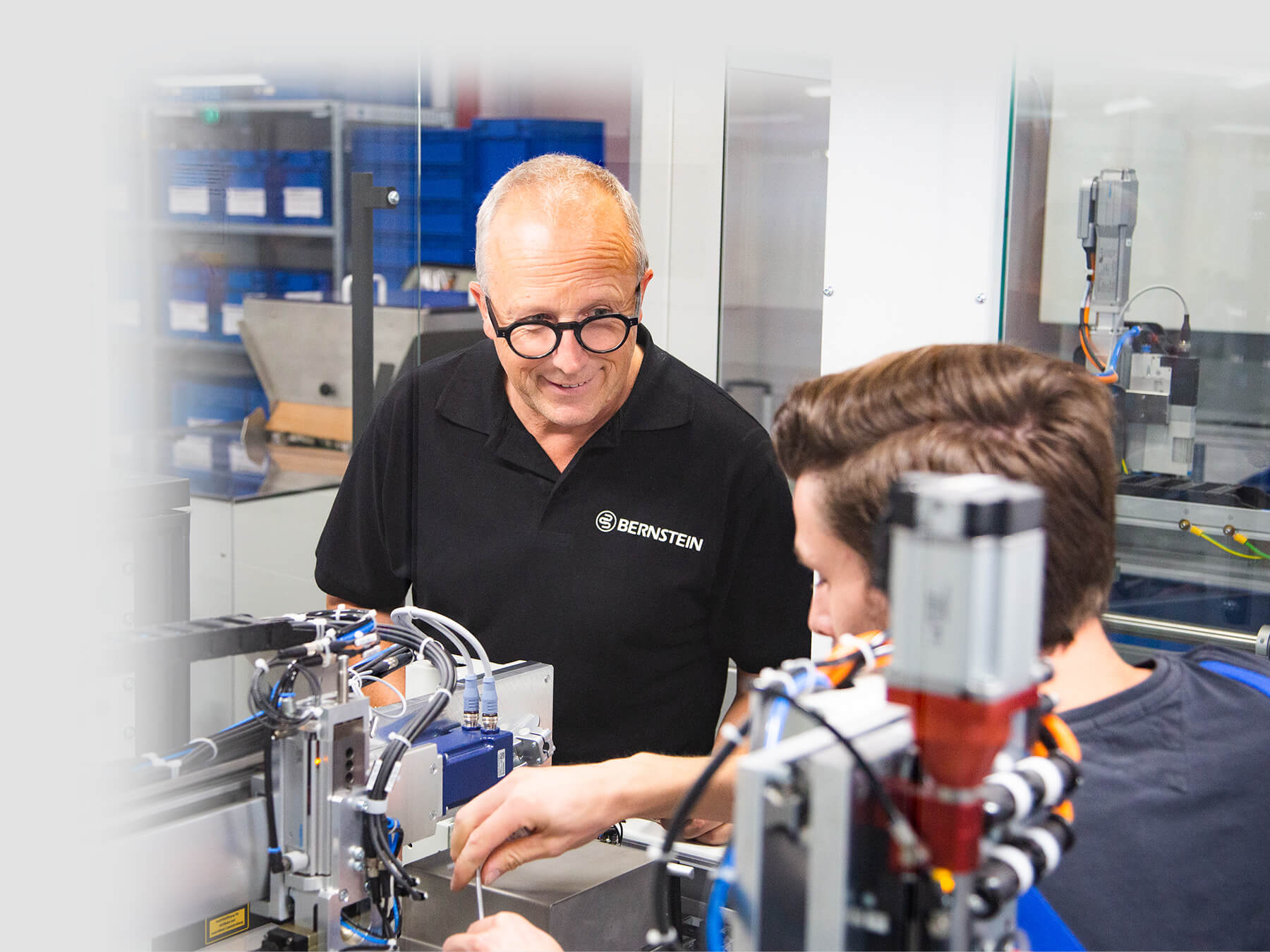 Our passion: safety for people and machines
Since 1947, we have made it our mission to provide the best possible protection for people, machines and processes.

Get to know us better and learn more about what moves and drives us every day. Who the people behind BERNSTEIN are. And how our products help to make machines and processes safer.